ACTING THE SILENCE with CHEKHOV & BECKETT
A class for professional actors who want to challenge their technical and emotional resources. Director Zeljko Djukic draws upon his expertise with these challenging playwrights to offer rigorous scene study.
Silence is an active force in the plays of Chekhov and Beckett. The characters in both worlds share the sense of ennui and desperation. Their internal dramas are occurring within their self-perception and their hypersensitivity to time and space. The humor is buried deep so it takes a complex technique to make it visible. Explore and find out how these playwrights' unique visions affect actor's technical and emotional resources; how different (or similar) is the relationship of the actor to the text, to the character, to other characters, and audience.
Required: Strong theatre background and training, determined by headshot and resume and/or placement audition.
Tuition: $325
6 Weeks
Upcoming Classes
1:00p-4:00p
Starts July 24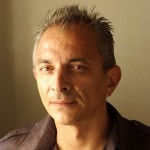 Zeljko Djukic is the founder and former artistic director of TUTA Theatre Chicago and a recipient of the Fulbright Scholar Award for 2013.