ATTACKING NEW WORK: A NEW MASTER CLASS WITH SPENSER DAVIS
To apply for this in-person class, proof of vaccination, including booster, is required. Make sure to upload your card before submitting your application.
We highly encourage all students to stay up to date with their boosters according to CDC recommendations and industry standards and receive the bivalent vaccine. Up-to-date means, if eligible, one must be boosted with the new bivalent vaccine, which is free. You are eligible for the bivalent booster if 2 months have passed since your last vaccine.
Please review our Health & Safety page for more information on uploading your Vaccination Card and our current guidelines.
A class for professional actors seeking to discover the performer's part of a new-play process. In this Advanced Scene Study class, award-winning playwright/director Spenser Davis (Goodman Theatre's 2020/21 Maggio Directing Fellow; Broken Nose Theatre) will provide you with scenes from contemporary - and in some cases, still-in-development - new works, ones that require sharp dialogue skills, rich personalization, and empathy for even the most easily stigmatized characters. Over the course of five weeks, we will discuss how to navigate receiving last-minute changes to your characters' key scenes, while sharpening the tools you can utilize to stay steady and focused, even when the script itself is still in flux. Rehearsal outside of class is required.
REQUIRED: Strong theatre background and training, determined by headshot and resume, and self-tape audition. Please submit a 90-sec self-tape contemporary monologue for consideration.
Tuition: $350
5 Weeks
Upcoming Classes
Thursdays, October 20 - November 17, 1:00p - 4:30p
Starts October 20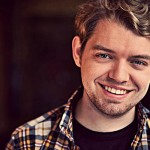 Spenser is a Chicago-based writer-director, Goodman's 2020/21 Maggio Fellow & winner of the Osborn Award.