CONTEMPORARY NATURALISM WITH ESTEBAN ANDRES CRUZ
Contemporary Naturalism (CN) is an approach to acting that blends Improv, Meisner, Viewpoints and dance to bring actors towards a more honest performance and more visceral choices in their work. CN seeks to take the "acting" out of your acting and centers more on honesty in your acting choices. CN is specifically designed for contemporary plays that demand more authenticity and the illusion of realism.
CN is Esteban's "way in" to the works of Stephen Adly Guirgis and other modern playwrights whose plays rely less on theatricality and more in earnest performances that employ an actor's individuality and sense of self. Like "Soul Music", this is acting with your soul.
Required: Strong theatre background and training, determined by headshot and resume.
Tuition: $375
7 Weeks
Upcoming Classes
Thursdays, 6:00p-9:00
Starts July 7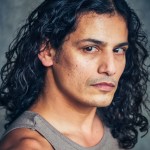 Esteban is a passionate and skilled stage and film actor, dancer, & teacher.