SHAKESPEARE SCENE STUDY WITH BOB MASON: IN PERSON
To apply for this in-person class, proof of full Covid-19 vaccination, including booster, is required. Make sure to upload a pdf of your card before submitting your application.
Please review our Health & Safety page for more information on uploading your Vaccination Card and our current guidelines.
Designed for actors with experience in Shakespeare, this class will investigate text and then take the crucial step of employing that work in action. Each actor will work on two scenes over the five-week class, learning to make dynamic choices in the moment. Taught by Chicago Shakespeare Theatre's Casting Director, Bob Mason, this class is sure to take the actor's Shakespeare game to the next level.
Required: Strong acting background and training required. Resume must include Shakespeare. Admission determined by Headshot/Resume.
Tuition: $350
5 Weeks
Upcoming Classes
Mondays, 6:00p-9:00p
Starts October 3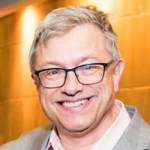 Bob Mason has been casting director at Chicago Shakespeare Theater since 2000.