WORK IN MULTI-CAM COMEDY: ONLINE
This two-day workshop will focus solely on the multi-camera comedy audition and job. Taught by working New York actor Jerry Kernion whose resume includes numerous multi-cam comedy roles ( FBI, CHICAGO FIRE, MELISSA AND JOEY, WALK THE PRANK, THE SUITE LIFE OF ZACK AND CODY, I DIDN'T DO IT, and others). By understanding the difference between this genre and Single-Cam Comedy, actors will gain specific tools to give their best audition for a multi-camera situational comedy. Students will receive sides in advance to prepare.
In this workshop you will learn:
How is the audition different?
Use of physicality in the room or on your self-tape.
How to heighten your reality and identity the cadence of the comedy.
What to expect from each day you work.
How to be prepared to work on your feet and in front of a live audience.
PRE-REQUISITE: Camera 2 or the equivalent, and permission of the instructor.
Tuition: $150
2-Day Workshop
Upcoming Classes
Sat. March 13th & Sun. March 14th - 10:30a-2:00p Both Days!
Starts March 13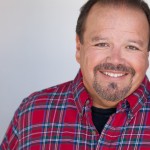 Jerry is a veteran actor/director/producer with over 50 television credits under his belt.