ROCK THE CALLBACK
Rock the Callback Class is designed for advanced on-camera professionals that want to keep their auditioning skills on point. During this six week course students will have the opportunity to meet and work with industry professionals in our community, including directors, casting directors and agents local to Chicago. Each week students will gain a new perspective from the chosen professional of the week, preparing new scenes every session, as well as receiving valuable feedback. Scene work will focus on creating authentic auditions and making memorable choices while servicing the material given.
Required: Strong acting background and training and completion of On Camera 3 or its equivilant.
Submitting

: Please create an account on our website, if you have not already done so. Upload your headshot/resume for consideration, no later than Friday, Sep. 6th at 5pm. We will notify those actors chosen for the workshop by Tuesday, Sep 10th. Thanks!
Tuition: $350
6 Weeks
Upcoming Classes
Mondays, 6:00p-9:00p
Starts October 7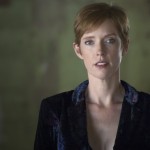 Adria brings inside knowledge of on-camera acting from her expansive roster of tv, film, & new media credits!