APPLIED VIEWPOINTS
Actor, dancer and Ensemble Dr., Esteban Andres Cruz teaches our newest movement class, Applied Viewpoints. Students will learn the essential Viewpoints and how to apply them for the purposes of building confidence and fearlessness in approaching performance. The Nine Viewpoints are an improvisational system that trains actors to use their body in time and space to create meaning. Remove personal doubt and reduce self-consciousness in a way that will prepare you to approach scene work from your true self with authority and joy.
The Nine Viewpoints:
Spatial Relationships: The distance between things on stage, between one body and another or between a body and an object or piece of architecture.
Architecture: The physical environment in which you are working.
Topography: The pattern created on the floor as the actor moves through the space.
Shape: The contour or outline the body (or bodies) make in space.
Gesture: A movement involving a part or parts of the body
Kinaesthetic response: A spontaneous physical reaction to something which occurs.
Repetition: Repeating something on stage.
Duration: How long a movement or sequence of movements continue.
Tempo: The rate or speed at which a movement occurs.
Tuition: $325
7 WEEKS
Upcoming Classes
Sundays, 12:00p-3:00p
Starts September 30
Sunday, October 14th, the class will be held 12:00p-3:00p instead of the usual 12:30p- 3:30p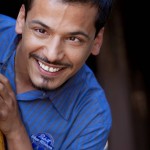 Estaban is a passionate and skilled stage and film actor, dancer, & teacher.