Devon de Mayo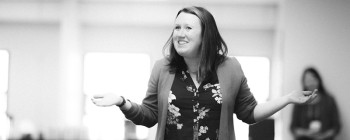 Hello! I am theatre artist - director, devisor and teacher based in Chicago. I've been working and living in Chicago for over 15 years, but have also made and studied theatre in New York, Mexico, the United Kingdom, Indonesia, Moscow and Australia.
Upcoming Projects: Don't Look Back/Must Look Back, Devised Work (Pivot Arts, Fall 2017); The Burn by Philip Dawkins, World Premiere (Steppenwolf Theatre for Young Audiences, Winter 2018); Women Laughing Alone with Salad by Sheila Callaghan (Theatre Wit, Spring 2018).
Recent projects: You On the Moors Now by Jaclyn Backhaus (The Hypocrites, September 2016); Movement Director on Wildnerness(engarde arts, October 2016); Sycamore (World Premiere, Raven Theatre, March 2017); Harvey (Court Theatre, May 2017).
Past directing credits include: No Candy by Emma Stanton (Signature Studio/Columbia University MFA Thesis Production); You Can't Take it With You by Kaufman & Hart (Northlight Theatre); Animals Out of Paper by Rajiv Joseph (Shattered Globe Theatre); Jet Black Chevrolet by Scott Barsotti (side project theatre); Lost in Yonkers (Northlight Theatre); Resident Director on The Audience by Peter Morgan (Schoenfeld Theatre, Broadway, under the direction of Stephen Daldry and starring Helen Mirren); Assistant Director on The Qualms by Bruce Norris (Steppenwolf Theatre); Guerra: A Clown Play, a collaboration with Mexico City based artists La Piara (Performances at NY Clown Festival, Tricklock Theatre in Albuquerque, NM, Tank Theatre in New York, Adventure Stage Chicago, Links Hall in Chicago, Foro Shapespeare Theatre in Mexico City and the Bogota Clown Festival, Colombia); Compulsion by Rinne Groff (Next Theatre); Everything is Illuminated by Simon Block, adapted from the novel by Jonathan Safran Foer (Next Theatre); An Actor Prepares by Mickle Maher, adapted from the book by Constantine Stanislavski (University of Chicago); Yes to Everything 2: Son of Everything by Philip Dawkins (First Floor Theatre); Roadkill Confidential by Sheila Callaghan (Dog & Pony Theatre Co. ); The Further Adventures of Hedda Gabler by Jeff Whitty (Dog & Pony); Clouds by Michael Frayn (Dog & Pony), Constriction by Jennifer Barclay Newsham (Collaboraction, Sketchbook); 52 (Canal Café, London).
Directing and devising credits include: The Whole World is Watching (Dog & Pony Theatre Co.), Infiltrating Bounce (San Antonio Luminaria Festival), The Twins Would Like To Say (Dog & Pony at Steppenwolf Theatre), As Told by the Vivian Girls (Dog & Pony - After Dark Award for Best Adaptation & Orgie Award for Outstanding Production).
Other theatre stuff: tap choreographer for Counterfeiters (Dog & Pony), dramaturg for Auctioning the Ainsleys (Dog & Pony), dramaturg for Miss Julie (Stertz Theatre - Cornwall, UK) and actress in Crescendos in Blue with Pip Productions at the French Institute, London.
I am a founder and Co-Artistic Director of Dog & Pony Theatre Company with the fabulous Krissy Vanderwarker. I also serve as an Adjunct Professor at Northwestern University, Loyola University and University of Chicago and as Theatre Faculty at the National High School Institute at Northwestern. I worked in Education at Northlight Theatre ffor 5 years, serving as Director of Education from 2009-2012. I received my MFA in Theatre Directing from Middlesex University in London and my BA in Drama and Political Science from Kenyon College. I did further studies at the Russian Academy of Theatre Arts (GITIS) in Moscow and the Indonesian Institute for the Arts in Bali.
Outside of theatre, I am an avid traveler and love to cook. I am also a mom, having welcomed a little boy to the world in January 2014. If you'd like to reach me, please email devondemayo@gmail.com and we can talk more.