MONOLOGUE FOR TEENS: ONLINE
Feel confident and empowered when you audition! This online class is designed for motivated young actors, grades 8-12, who want to prepare audition pieces for theatres, agents, and college auditions. While developing two "audition-ready" pieces, students will learn:
Guidelines for choosing strong, age-appropriate material to showcase your unique talent

Audition etiquette, so you'll know exactly what to do and how it works

How to make a strong, friendly introduction

How to choose a strong imaginary scene partner

How to make a strong opening and closing to keep your audition dynamic from beginning to end

How to use personalization and visualization to improve your auditioning technique
You aren't ready without these essential tools!
Students must have internet access, as well as a computer/cell phone/tablet with a working camera and microphone.
Tuition: $225
4 Week Class
Upcoming Classes
Thursdays, 4:00p-6:00p
Starts May 20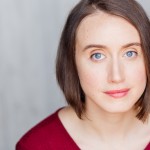 Actress and fight choreographer, Christina brings energy, creativity, and industry knowledge to her classes!