SUMMER ACTING INTENSIVE FOR TEENS GRADES 10-12: IN PERSON
This exciting one week intensive is designed for teen actors who wish to take their training to the next level.
Using improv and theatre exercises we introduce the fundamentals of relationship, action, and personalization. Using the language of Shurtleff's Guideposts, we explore scene study. Students will also have classes in Acting, On Camera, and Improv. Our teen students have the opportunity to work with members of our dynamic professional faculty, working Chicago actors and directors. Classes include:
Acting Technique
Scene Study
On Camera Technique
Improv Warm Ups
Industry Guest Q&A
This program is ideal for teens who have some experience under their belts, and are ready to take their training further. No audition is necessary for this program.
Tuition: $350
5 Consecutive Days
Upcoming Classes
Monday-Friday, 1:00p-4:30p
Starts August 2

This class is full.
Sign up / log in to join waitlist to join the waitlist.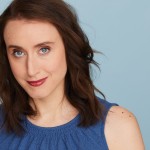 Actress and fight choreographer, Christina brings energy, creativity, and industry knowledge to her classes!