Gretchen Sonstroem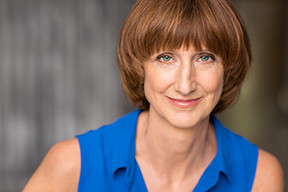 Gretchen Sonstroem has taught acting in the Chicago area for over twenty years and is known for her passionate, dynamic and inspirational style of teaching that respects both the creative and technical aspects of the craft.
Her midwest theatre credits include performances with Madison Repertory (playing Annie in all three plays of The Norman Conquests trilogy), Strawdog, Apple Tree, Milwaukee Repertory Theatre, Bailiwick, and Writers' Theatre in Glencoe, where her favorite portrayals were George Sand in Dear Master and Anne Sexton in My Own Stranger.
Gretchen has also directed Three Viewings, Twelve Angry Jurors, The Odd Couple, and Sylvia at Oil Lamp Theatre in Glenview, as well as Girl at Clockwise Theatre in Gurnee, Hedda Gabler, and Spoon River Anthology in Chicago.
Gretchen has her Master's Degree in Performance Studies from Northwestern University where she studied text analysis with Frank Galati and movement techniques with Mary Zimmerman. She also trained at Circle-In-The-Square Theatre School in New York City, studying both Uta Hagen's and Mira Rostova's systems.
In addition, Gretchen enjoys artistic forays into playwriting (including her play The Psalm of Levi Yoder at Northwestern University, which starred Annabel Armour and Jane Heitz), memoir writing (she's working on her first book), and the adaption of oral histories for the stage. Gretchen also integrates the physical aspects of the performer through her study and teaching of yoga, having received her teacher certification from the Chicago Yoga Center in 1997.