Ever wanted to learn first-hand from top-tier industry professionals, all from the comfort of your own home? Now is your chance! Our exciting new ASC Webinar Series allows you to join our incredible faculty members as they interview a myriad of working Chicago talent. Featuring casting directors, theatre directors, actors, and agents – all of whom are ready and excited to share their knowledge, answer your questions, and help you take your career and artistry to the next level. Check below for recordings of our previous webinars, and be sure to register for those yet to come!
CONTENT CREATION, THE UNION & YOU!
Our Next ASC Webinar: Jammie Jams, Ep. 8 is Monday, May 25th @ 6 pm CST.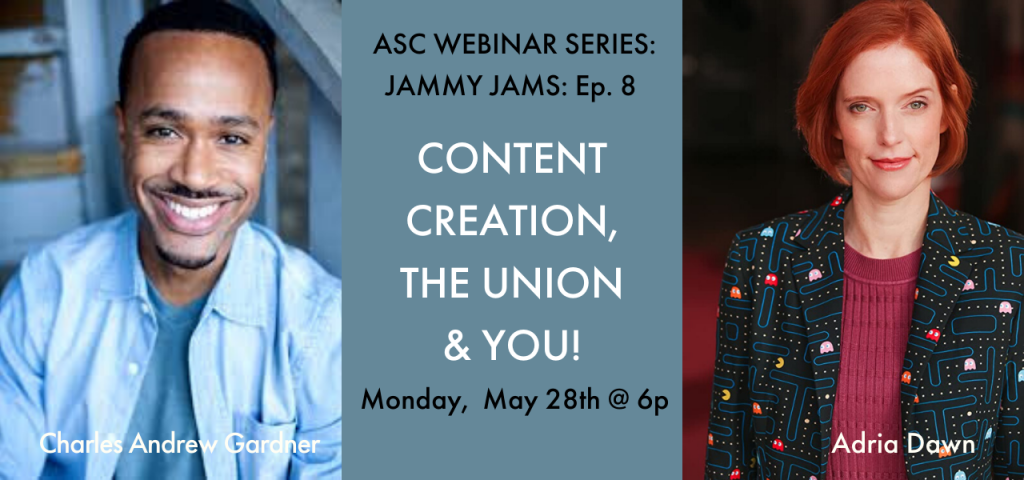 Chicago SAG-AFTRA President (and actor/filmmaker/teaching artist) Charles Andrew Gardner will talk about creating his short film, using the S.P.A. agreement and how this contract can help union and non-union actors stay creative while maintaining social distance. The last 20 minutes will be dedicated to answering any questions you have about the union! that you've
ASC Webinar Series Recordings
FILMMAKER STEPHEN CONE & ACTOR COLE DOMAN CHAT ABOUT WORKING TOGETHER ON THE FILM HENRY GAMBLE'S BIRTHDAY PARTY & MORE!
CLICK HERE TO READ A NEW INTERVIEW – ACTOR TO ACTOR….A CONVERSATION WITH COLE DOMAN by NOAH GLASER
LEARN HOW LOCAL INDIE FILMMAKERS DIRECT & PRODUCE THEIR OWN CONTENT
Adria Dawn chats with four experienced filmmakers offering advice on everything you need to know when creating your own project, working on an indie film set, the festival circuit and more!
With: Madelaine Anderson, Charles Andrew Gardner, Gitanjali Kapila & David Tarleton.
THE ACTOR ON THE COMMERCIAL SET!
Join Adria Dawn as she chats with Matt Miller & Tim Harris about the relationship between the Director and the 1st AD and how actors can best help "the team" on shoot day.
HOW CHICAGO BASED ACTORS CAN COMPETE IN MULTIPLE MARKETS!
Join Adria Dawn as she chats with the lovely ladies of DDO Artists Agency and Casting Director Brittani Ward about ways in which Chicago artists can expand their reach into markets outside of Chicago.
DAVID O'CONNOR & DAVID MURPHY of O'CONNOR CASTING TALK COMMERCIALS/INDIES/USING IMPROV & MORE
Adria Dawn chats with Casting Directors David O'Connor & David Murphy of O'Connor Casting. They discuss the casting process for commercials/indies, using improv as an audition tool and more.
KEEP YOUR POWER IN THE ROOM & KICK SELF SABOTAGE IN THE BUTT!
Adria Dawn chats with Casting Director Mickie Paskal, Agent Donna Simon Dunn of Grossman & Jack Talent, and Actor/Director/Casting Director Nik Whitcomb about how actors tell casting that they are "wrong for the job" without even knowing it. They discuss ways to walk into the room with confidence & "take the role."
CLAIRE SIMON TALKS ABOUT SELF-TAPES & LIVE AUDITIONS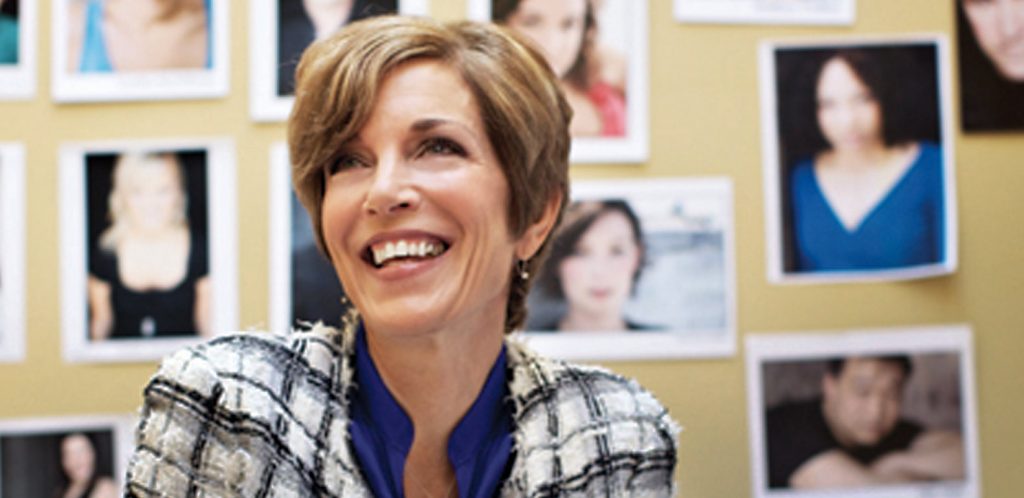 Claire Simon
Adria Dawn talks with Claire Simon about her views on what makes a great self-tape, what she looks for in live auditions and more.