Spenser Davis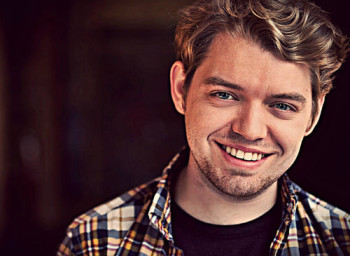 Spenser is an award-winning writer-director, raised in Northwestern Arkansas and currently living in Chicago. Recently, he ended a two-year stint as the Michael Maggio Directing Fellow at The Goodman Theatre, where he served as Associate Director to Bob Falls on his live-streamed production of The Sound Inside. Spenser's newest play, A Million Tiny Pieces, was written for South Coast Rep as part of the Elizabeth George Commission and was recently featured in their Pacific Playwrights Festival. Other honors include the B. Iden Payne Best Director Award, the M. Elizabeth Osborn Award from the American Theatre Critics Association, the Joseph Jefferson Award for Best Director (for which he's been nominated three times), and being named a finalist for the Harold & Mimi Steinberg/ATCA New Play Award. He's the Director of Programming for Broken Nose Theatre, a member of The Factory Theater, and a nominator for the Kilroys List.
Regionally, he has directed at Street Corner Arts in Austin, while in Chicago, his credits include Interrobang Theatre Project, A Red Orchid Theatre, American Blues, Hell in a Handbag, Promethean Theatre, PrideArts, Strawdog, First Floor, The New Coordinates, and Steppenwolf 1700. Next up, he'll be assistant directing for the World Premiere of Swing State, a new play by Rebecca Gilman and directed by Bob Falls at The Goodman.
His plays include Plainclothes, Sick, Merge, Underdogz, the critically acclaimed virtual play The Spin, and Primer, an audio drama now being adapted for in-person performance. Spenser's short plays have been named Finalist for the Heideman Award, produced across the world, and have been published by Smith & Kraus. His first television pilot Knox County Nights was a Finalist at the 2021 Austin Film Festival.

Teaching experience includes serving as one of Northwestern University's Industry Mentors (2019/20), the 2020 Masterclass for the National Society of Arts and Letters' Musical Theatre Competition, a guest lecturer at University of Chicago, and a teaching artist with American Theater Company, the Arkansas Summer Intensive and more. He regularly partners with the Vagabond School of the Arts, writing custom monologues. He wrote, directed and guest-starred in the short-form comedy series SQUID alongside his sister, comedian Sydney Davis Jr. Jr. Its first five episodes are now available on Amazon Prime.

He lives in Chicago with his awesome spouse E and two ridiculous cats. He is proud to be represented by William Morris Endeavor.
Classes

Dive into new work! Begins August 1st.

1 week summer program for teen actors who want to experience training in a professional environment. Students will tackle scene work, on-camera, stage combat, improv & more. ~ Week of July 11 or Week of July 25.