GRADES 9-12: ON CAMERA TECHNIQUE
Are you ready for the camera? Designed for teen actors, this class teaches the technical requirements needed to work in front of the camera. Students will work with all aspects of commercial audition scenarios and copy, as well as with film & television sides. This class is very hands-on; students will work on-camera every week, as well as review playback footage and receive feedback. Classes will include:
Script Analysis--To help actors tackle any script
Learning to fully use oneself--To maximize your unique actor-self
Finding stillness and specificity--To be clear and composed on-camera
Making dynamic choices--To be interesting and emotionally alive on-camera
Facilitated by a teacher, the final class culminates with a Q & A for parents with a top Chicago agent. This Industry class is held 11am-1pm.
Tuition: $395
This class meets 10 times, with the final class running 11a-1p
Upcoming Classes
Sundays, 10:00a-12:30p
Starts February 23
NO CLASS Apr 12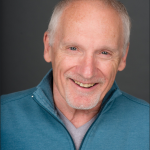 Doug brings years of award winning theatre and on-camera experience to his work as a teacher and coach.