ASC's webinars for actors allow you to join our faculty members as they interview working Chicago artists, industry professionals, and national talent. Featuring casting directors, theatre directors, actors, and agents – all of whom are ready and excited to share their knowledge, answer your questions, and help you take your career and artistry to the next level. Check below for recordings of our previous webinars, and be sure to register for those yet to come!
ASC Webinar Series Recordings
Voiceover & SAG-AFTRA – Ep. #19
Learn about why the union matters (even if you are not a member!)
Join some of Acting Studio Chicago's Voiceover instructors for a candid discussion about the union and navigating a career in voiceover.  Find out what you need to know about pricing, protections, and some of the scams and traps to avoid.
ASC VO Teachers and SAG-AFTRA members:
Deb Doetzer- Commercials
Natalie Duke- AudioBooks
Brad Grusnick – Animation/Gaming
Brian Plocharczyk- Corporate/ Educational Narration
*Moderator:  VO Artist and SAG-AFTRA member Ilyssa Fradin.
The Changing Landscape of Voiceover – Ep. #18
Join ASC Faculty Member & Host Deb Doetzer as she hosts a lively discussion about the recent changes in the VO Industry and what talent needs to know in order to remain competitive. From the importance of home studios, to editing software, to recording jobs from home. Get insights from top audio engineer Dave Leffel of BAM, Debby Kotzen, Founder/Agent of NV Talent, and Jeff Davis of Energy BBDO.
Carving Out Your Career – Ep. 17
Hosted by Faculty member Charles Andrew Gardner, this webinar for actors features actor Jerod Haynes. This dynamic duo discuss Jerod's career path, his discipline, drive & determination. They will also talk about BLUEPRINT (and show clips) ,a film on Amazon Prime, which Jerod co-produced, co-wrote and starred in. You will be inspired.
Let's Get Intimate – Ep. 16
Join Adria Dawn for Jammy Jam – Ep. 16 as she talks with the former Executive Director and one of the founders of Intimacy Directors International, Tonia Sina and multi-talented intimacy director Rachel Flesher. Learn how they help actors do their best work by creating safe, supportive environments for intimate, physical and sexual scenes onstage and on camera.
Face To Face with Cinespace – Ep. 15
Adria Dawn is back for Jammy Jams as she interviews the president of Cinespace, Alex Pissios, about the effects Covid-19 has had on our industry. Learn about Alex as he discusses his important role at Cinespace, what plans for reopening might look like, safety guidelines, and the future of Chicago's biggest studios.
The Arts As An Act Of Healing – Ep. 14
Join Esteban as they interview Carla Stillwell of The Stillwell Institute for Contemporary Black Art. The mission of the institute is to recruit, develop, and support contemporary Black artists and teach art making in the Black community as a healing practise, a vehicle for social change, and a viable career opportunity.
The Future of American Theater – Ep. 13
Join us as Esteban hosts a panel including Miranda Gonzalez, the Artistic Director of Urban Theater Company at Batey Urbano, and others.
Urban Theater Company serves as a pipeline for a diverse and culturally specific collective of Chicago actors, designers, and producers who embrace the responsibility to create an environment full of honesty, integrity, representation, and acceptance.

Representation in the American Theatre – Ep. 12
Join Esteban as they talk with Theatre Producer-Activist Mica Cole during this webinar for actors. Originally from Chicago, Mica was the Executive Director of Free Street Theater and most recently Oregan Shakespeare Festival's Repretory Producer. She has over 15 years of experience advancing and advocating for voices and stories that matter. Mica is on a mission to change the field of theatre in the United States by influencing not only the stories that get told, but who gets to tell them, who has access to hear them, and how our institutions can best support these stories by organizing around the fundamental values of Equity, Diversity and Inclusion.
CENTERING YOUR SPIRIT – Ep. 11
How to Center the Ephemeral Part of Our Being In Art, Board Rooms, During These Times of Crisis and How it Can Lead Us Toward Healing

'Centering The Spirit 'is an exploration of the application of the ephemeral part of our being in the creation, administration and engagement of art. Esteban will be interviewing Kevin Iega Jeff, the co-founder and until recently the Artistic Director of Deeply Rooted Productions, a dance company that "re-imagines and diversifies the aesthetics of contemporary dance by uniting modern, classical, American and African-American traditions in dance and story telling."
THE THRIVING ARTIST DURING QUARENTIMES – Ep. 10
Find Your Voice, Define Your Vision and Manifest Meaningful Work
Adria Dawn hosts an Educational Webinar & Interview with multi-disciplinary artist Esteban Andres Cruz. In this webinar for actors, Esteban will break down what defines an artist, especially during these quarentimes and reminds us how to center our identity around our core values vs other outside influences.

They will share exercises and techniques with our listeners to help find your artistic voice, define your vision and offer practical, tangible steps to manifesting your dreams. Esteban will share their vision and hopes for the future of art in general and specifically the future of theater.
CREATING ART IN TIMES OF CRISIS – Ep. 9
During EP. 10 of Jammy Jams Adria Dawn speaks with three talented artists about the importance of creating work in times of crisis. This week's webinar for actors we will focus on black artists' perspectives and how we can support and amplify their work.
Learn about actor/director Deanna Reed Foster and the fundraising project she directed during Covid-19. Hear from filmmaker Tommy Sigmon
about his body of work including the black sci-fi series, Paradigm Grey, and horror series, Terror Time. Learn about writer Reginald Edmund and "Black Lives, Black Words."
CONTENT CREATION, THE UNION & YOU! Ep. 8
Chicago SAG-AFTRA President (and actor/filmmaker/teaching artist) Charles Andrew Gardner will talk about creating his short film, using the S.P.A. agreement and how this contract can help union and non-union actors stay creative while maintaining social distance. The last 20 minutes of this webinar for actors will be dedicated to answering any questions you have about the union!
FILMMAKER STEPHEN CONE & ACTOR COLE DOMAN CHAT ABOUT WORKING TOGETHER ON HENRY GAMBLE'S BIRTHDAY PARTY! Ep. 7
CLICK HERE TO READ A NEW INTERVIEW – ACTOR TO ACTOR….A CONVERSATION WITH COLE DOMAN by NOAH GLASER
LEARN HOW LOCAL INDIE FILMMAKERS DIRECT & PRODUCE THEIR OWN CONTENT Ep. 6
Adria Dawn chats with four experienced filmmakers offering advice on everything you need to know when creating your own project, working on an indie film set, the festival circuit and more!
With: Madelaine Anderson, Charles Andrew Gardner, Gitanjali Kapila & David Tarleton.
THE ACTOR ON THE COMMERCIAL SET! Ep. 5
Join Adria Dawn as she chats with Matt Miller & Tim Harris about the relationship between the Director and the 1st AD and how actors can best help "the team" on shoot day.
HOW CHICAGO BASED ACTORS CAN COMPETE IN MULTIPLE MARKETS! Ep. 4
Join Adria Dawn as she chats with the lovely ladies of DDO Artists Agency and Casting Director Brittani Ward about ways in which Chicago artists can expand their reach into markets outside of Chicago.
DAVID O'CONNOR & DAVID MURPHY of O'CONNOR CASTING TALK COMMERCIALS/INDIES/USING IMPROV & MORE – Ep. 3
Adria Dawn chats with Casting Directors David O'Connor & David Murphy of O'Connor Casting. They discuss the casting process for commercials/indies, using improv as an audition tool and more.
KEEP YOUR POWER IN THE ROOM & KICK SELF SABOTAGE IN THE BUTT! Ep. 2
Adria Dawn chats with Casting Director Mickie Paskal, Agent Donna Simon Dunn of Grossman & Jack Talent, and Actor/Director/Casting Director Nik Whitcomb about how actors tell casting that they are "wrong for the job" without even knowing it. They discuss ways to walk into the room with confidence & "take the role."
CLAIRE SIMON TALKS ABOUT SELF-TAPES & LIVE AUDITIONS – Ep. 1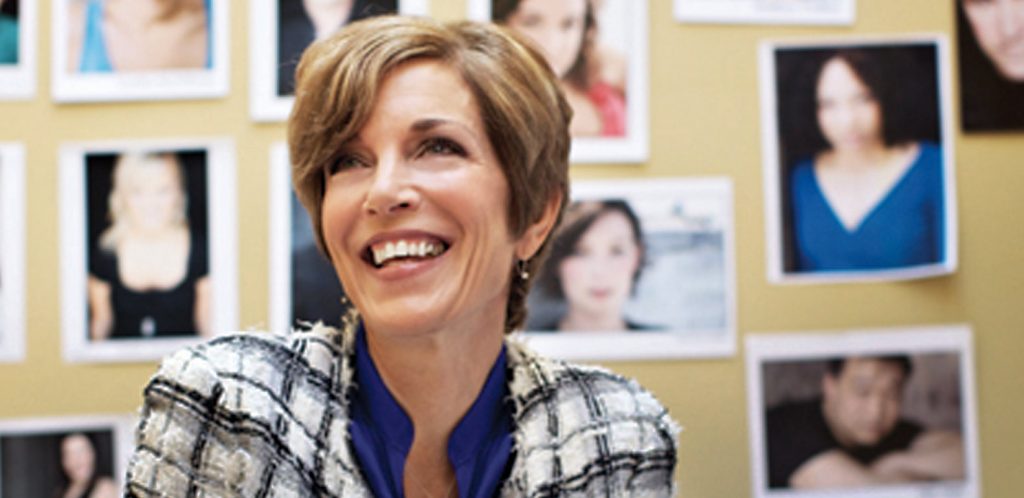 Claire Simon
Adria Dawn talks with Claire Simon about her views on what makes a great self-tape, what she looks for in live auditions and more.