Jerod Haynes, ASC alumni, is currently anchoring NATIVE SON, a co-production of Court Theatre and American Blues Theatre. As Bigger Thomas, Haynes "confronts the brutality of his era and the brutality within himself" in this story of 1930's South Side Chicago. The new adaptation of Richard Wright's novel by Nambi E. Kelley has received rave reviews and extended its run.
"Its a pretty heavy role," says Jerod, "But I have an awesome cast. It's a blessing to work with people of this caliber." He's enjoying digging into the part. "I have to thank Nambi E. Kelley and director Seret Scott for giving me the opportunity to take on the role of Bigger Thomas."
The part is intense. The play is 90 minutes long, fast-paced and very physical. "When I learned that I was going to be on stage so much, a couple of months before I started doing a lot of cardio," he says. Still, Haynes says, "Each scene is a scene, and that's not a race. It just feels like I'm in a scene with my scene partners, not racing through 90 minutes."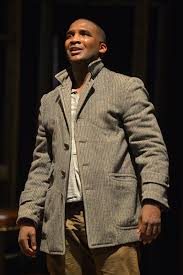 The Importance of Training
As a working actor, Jerod sees the value of continuing to go to class. "When I'm not working, I'm in class," he says. "I've taken just about everything ASC could offer me." He's studied all of the levels of Shurtleff, Linklater, taken on-camera classes–if it's available, he wants to learn from it. "From everything I've taken, I've learned  [acting] is just trying to be honest, being in the moment, being truthful to who you are." One of the big lessons he's taken from his training is the importance of taking risks. "The show is different every single night," he says. "We're all bringing in something new every time." Even when he's trying new things, Jerod returns to the 12 Guideposts again and again. "Take those basic principles, you'll do well," he says.
Native Son  played at Court Theatre and Marin Theatre Company in California.To get a glimpse of Jerod's work, take a look at this video from the Chicago Tribune.