#1 Audiobook narration is all about acting.
Audiobook narration is about acting. Acting training and experience is fundamental. Having a gorgeous voice is great, but without the essentials of experience and training, you won't have the skill to narrate with the grounded emotions that all authors want to get across. There are typically several characters that you alone will need to narrate and express as real, tangible people. It's important that the reader/listener can distinguish each character and their plot lines. Acting training is fundamental if you want to pursue a career as a voice artist.
#2 You have to love to read.
This may seem like common sense, but loving to read books is a huge part of the audiobooks industry. Yes, listening to audiobooks is also important, but remember that you'll be reading an entire book aloud. Here's a test: Sit down in a comfortable chair and read out loud for at least 20 minutes to an hour (the longer the better actually). Time yourself. If by the end of the exercise you find that it wasn't laborious and uncomfortable, great! But if you discover that it seemed to take a long time, that you weren't having fun while doing it, then know that moving forward in the audiobooks industry might be a challenge for you.
#3 There is a lot of technology involved.
It's not all about the acting, in fact, there's a great deal of technological savvy required. Most audiobook narrators work from their home studios. Often, production is done themselves (though not always). If this is a field you want to pursue be prepared to learn what is technically required for the job in order to produce a professional recording.
#4 Audiobook narration is a time and money investment.
There is a lot of financial investment upfront. If you aren't already a voice artist, you'll have to finance your home studio. It's possible to afford and there are all types of price ranges in the home studio set up, but it can be initially expensive. Remember that you must have a good area to set up your studio (it's the top priority). It must be a quiet space where there are little interruptions. It could be a closet or a small room in your home, but it will need to be treated with soundproofing essentials. Remember that time is also a very important aspect of this kind of work. Most audiobooks are at least 6 to 24 hours long and time management is essential. You will have deadlines and not meeting those deadlines can be detrimental to your success.
#5 You CAN make money.
If you have all of the qualifications and you put in the time, the investment, and the dedication, you can most certainly make a living narrating audiobooks. Professional voiceover artists understand that narrating a commercial (which can be very lucrative) are gigs that are few and far between. There is always work to be found when narrating audiobooks. The audiobooks business is booming right now and if you have a passion for it, there is work. It can be a competitive field, but there are more books than there are narrators. If you have the chops and the dedication, there is always work to be found.
#6 It can be social.
It may seem that spending hours in your home studio, listening to the sound of your own voice can be a bit lonely. However, the audiobooks industry is actually a very social one. There are always social functions for audiobook narrators. It's important to attend these functions. This is where you meet important industry professionals who will remember your face and hire you. It's actually a fundamental part of the job.
One last thing…
If you love to read, you've trained in acting and you're interested in this field, it can be a really great job. You have the opportunity to bring characters to life and help create an author's vision. You might not get applause for your performance, but there are fans who will reach out to you and tell you how much your work has changed their lives. It really is an amazing industry to be a part of. It does require training and dedication, but luckily, Acting Studio Chicago has a class for that. 😉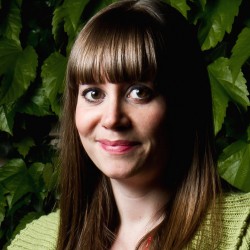 Natalie Duke began her voice acting career as a child, recording commercials in various Chicago studios whenever her parents could force Natalie's nose out of the book she was reading. Natalie's young announcer voice could be heard on spots for big-name companies like McDonald's, Payless, Chex Cereal, Embassy Suites Hotels, etc., and she even lent her singing talents to Gatorade's famous "Be Like Mike" campaign with Michael Jordan. As an adult, Natalie's discovery that she could combine her passion for books with her voice acting career enthusiastically sparked her new life as an audiobook narrator. Now more than 70 books in, Natalie has contributed her voice to titles in almost every genre of fiction that exists, with a little bit of non-fiction thrown in as well. Natalie has worked with most of the major book publishing companies, as well as a wide variety of independent authors. Natalie is extremely excited that she gets to share her love of audiobooks with other actors just as eager to learn about them.
Interested in becoming an audiobook narrator? Check out our Natalie's class, The Business of Audiobooks: How To Build A Successful Career In Narration.