GRADES 9-12: ACTING FOR TEENS
Whether they're interested in a performing career, or are investigating acting for the first time, we take our teen actors seriously at ASC. This acting class is fun and lively, but absolutely doesn't talk down to them.
In this dynamic class, students are the given the tools to tackle any script be it theatre, film, tv, or commercial, and make it their own. Our teen actors will be cast in age-appropriate scenes from the contemporary theater.
Classes include:
Building and deepening fundamental acting skills
Understanding conflict and action, and how they drive a scene
Personalizing any material to make a performance uniquely your own, whether it's a commercial audition, or a play at school
Discoveries, and how they change a scene
Challenging games and exercises to build skills
Improvisation, to learn to connect with each other and go with the flow
Learning the ropes to perform onstage with confidence
This class is designed to be repeated.
This class culminates with a low key performance for family and friends.
Tuition: $395
This class meets 10 times
Upcoming Classes
Saturdays, 10:00a-12:00p
Starts February 22
NO CLASS Mar 14 & Apr 11
This class has a pre-requisite: .
If you have the equivalent experience...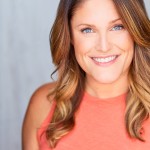 As an actor and teaching artist for nearly 20 years, Sarafina brings her passion and fearlessness to the table.