GRADES 9-12: SUMMER AUDITION CLINIC FOR TEENS
This exciting clinic immerses the young actor in the professional acting industry.
Five full days of audition/acting classes include: cold reading, monologue, on- camera and business skills. The week culminates in a showcase of monologues for some of Chicago's top agents, casting directors and theatre directors. During the week, students will learn from lunchtime chats with industry professionals, have color headshots taken by photographer Aaron Gang, and will study with some of Chicago's busiest working actors/directors: Kurt Naebig, Adrianne Cury, Doug McDade, Christina Gorman and Studio Director Rachael Patterson.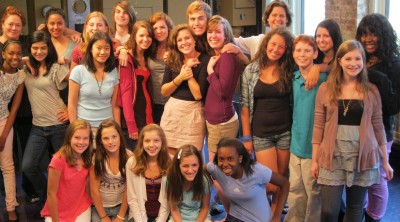 Cold Reading- make bold choices fast
Monologue- learn to personalize
On-Camera- audition skills for commercial/film
Business Skills- resumes/cover letters
Lunch Q&A- Agent KaCee Hudson of Shirley Hamilton Talent
Lunch Q&A- Casting Directors Mickie Paskal & Jennifer Rudnicke of PR Casting
Lunch Q&A- Actor Adria Dawn, SAG-AFTRA, AEA
Headshots- color headshots, photographer Aaron Gang
DAILY WARM UPS- physical, vocal, improv, exercises
Showcase- Friday performance for agents & parents-
starts at 6:00pm
This program is ideally suited for teens with strong previous training and experience who are looking to up their skills and audition game.
Admission is determined by monologue audition.
Prepare 1 contemporary monologue of 2 minutes or less, and bring one headshot/resume.
AUDITIONS: Call us at 312.527.4566 to schedule an audition.
Tuition: $695
There are no classes currently scheduled.
Sign up / log in to join the waitlist.