Christina Gorman
Christina is an actor and fight choreographer, originally from the Hudson Valley region of upstate New York. As an actor, Christina has studied in Chicago and abroad, including the Royal Academy of Dramatic Art in London, England.
Chicago acting credits include: 3C (A Red Orchid); Men Should Weep (Jeff Award for Best Production-Play) and Stage Door for Griffin Theatre, The Bottle Tree (Stage Left Theatre), Making God Laugh (Fox Valley Rep), Leading Ladies (Buffalo Theatre Ensemble), The Thin Man (City Lit), and The Tall Girls, In the Heat of the Night, The Grown Up, The Rose Tattoo, Our Country's Good, Happy Now, and Romeo and Juliet for Shattered Globe Theatre, where she is an ensemble member. She can also be seen in Clarion New Media's webseries, The Adventures of Jacketman.
Christina's fight choreography credits include Visiting Edna (Steppenwolf), The Nether (A Red Orchid), Lela & Co, Wastwater, Posh, Brilliant Adventures, and The Cheats (Steep Theatre), Ragtime (Griffin Theatre), The Commons of Pensacola (Northlight Theatre), The Orchestra (Akvavit Theatre), Miles Away (The Side Project), and In the Heat of the Night, The Rose Tattoo, Mill Fire, Our Country's Good, Happy Now and The Whaleship Essex for Shattered Globe Theatre.
She will be understudying and fight choreographing Steppenwolf Theatre's upcoming production of The Crucible.
Classes
Testimonials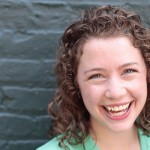 "Christina (Christina Gorman, Instructor - Stage Combat) was all over keeping us safe and showing us how to improve. She was so encouraging and did a great job at creating a safe and fun atmosphere."
— Angela Rak