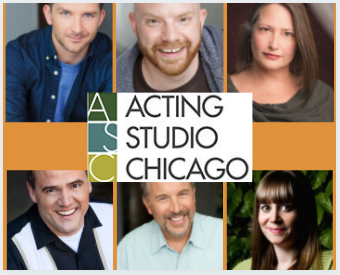 Acting Studio Chicago is lucky to have so many talented and accomplished Voiceover professionals teaching with us. We asked them a few questions about recording voiceovers at home and how to achieve the best possible results. The voice-over industry is booming right now and we want you to be as prepared as possible for any potential work that may come your way. Check out what our pros suggest!
When recording and editing your voiceover work, which software do you prefer to use, and why?
If you're looking for editing software that doesn't break the bank, then Audacity is the perfect choice for you. Our voiceover instructors love this program because it's FREE, and offers a user-friendly interface.
"If you don't want to spend money, Audacity is a great free all-around platform for voiceovers from home." –Brad Grusnick
"I think Audacity is very user friendly, however, it just doesn't work well on a Mac." –Norm Boucher.
---
This program is a little more expensive, as you pay either an annual or monthly fee ($20.99/mo). However, it also comes as part of the Adobe Creative Cloud ($52.99/mo), so if you do any other graphic design or video editing on other Adobe software, it is worth the expense.
Beginning Voiceover instructor, Brad Grusnick, as well as Voiceover For The Professional Actor instructor, Brian Plocharczyk, both currently use Adobe Audition when recording in their home studios.
"I like the editing functionality of Adobe Audition. Being able to quickly compress, amplify, or normalize my audio. Also, you can zoom in on the waveform in different ways, so if you have a pesky breath or noise, it is easy to pinpoint and delete." – Brad Grusnick.
"There are a lot of bells and whistles in Audition that I haven't even touched yet because I have never had the need for them. There was a little bit of a learning curve figuring out the different modes and views in Audition, but now that I have them figured out I really enjoy working in Adobe Audition," -Brian Plocharczyk.
---
When they're on the road and aren't able to record and edit from home, Both Brad and Brian choose to use TwistedWave on their mobile devices because it is easy point-and-click editing software that works well on iPhones and iPads.
"I absolutely love the mobile version of Twisted Wave. It is incredibly easy to use and intuitive. It has everything you could possibly need for recording and cleaning up auditions, and for $10…you can't beat it!" – Brian Plocharczyk
"I asked my Mac VO pals for software recommendations and across the board, Twisted Wave was the winner. Very easy to use and you can use it on your iPhone and iPad too! – Deb Doetzer
---
Is there a particular type/brand of microphone that you prefer to record with and why?
While microphones can be expensive, they are a worthwhile investment for anyone looking to work in the voiceover industry. There are a vast array of microphone styles and brands to choose from, and the amount of choices available can be overwhelming. To help narrow down your options, we've asked our ASC voiceover experts to share their favorite microphone brands and models.
The microphone you use will influence the way you sound in your final recording. It's important to choose a microphone that best fits your vocal profile and emphasizes the elements of your voice that you want to highlight. At the end of the day, the best microphone for you will be the one you feel brings out the best parts of your voice!
When starting voiceover from home, Blue Yeti USB for starters..then RODE mics with an interface. —-Jeff Lupetin
---
"I really like their microphones because they fit my vocal profile and aren't too bright with my high notes or bassy with my low notes. I have a RODE NT-USB for quick auditions and traveling and I have a RODE NT-1 for better quality sound." -Brad Grusnick
---
"I'd buy a Sennheiser 416 which is the shotgun-style mic used in most professional studios. I love the way I sound on it (which is really the most important aspect of a mic)". -Deb Doetzer
"When I go to a pro studio, I think I sound best on the Sennheiser 416. The 416 brings out the warmth and texture in my voice." –Natalie Duke
Are you interested in pursuing a voiceover career? Already doing voiceovers from home but want to sharpen your skills? Take a look at our VO program HERE!