ON CAMERA 1: IN PERSON
To apply for this in-person class, proof of full Covid-19 vaccination, including booster, is required. Make sure to upload a pdf of your card before submitting your application.
We highly encourage all students to stay up to date with their boosters according to CDC recommendations and industry standards and receive the bivalent vaccine. Up-to-date means, if eligible, one must be boosted with the new bivalent vaccine, which is free. You are eligible for the bivalent booster if 2 months have passed since your last vaccine.

**Note: after you hit APPLY you will receive a confirmation email; make sure to read carefully and fill out our required VACCINATION INFO FORM.
Please review our Health & Safety page for more information on uploading your Vaccination Card and current C.D.C. guidelines.
Have you already laid a foundation as an actor?
Do you want to acquire the skills necessary for on-camera work as an actor? Do you wannt to make the transition from stage to screen? This class is designed for you.
Become the actor who is in control of how the camera sees you. Learn
to make technical adjustments necessary to excel in on-camera auditions and work. Use what you learn to be in command of your performance!
Learn how to approach a variety of commercial styles and what may be expected in your audition or on the job
Learn how to attack co-star (functionary) roles
Learn to delve deeply into dramatic television and film scene work with confidence.
Learn the mental strength needed to work from a place of stillness
Required: Core Program levels 1-3 or equivalent training- determined by headshot and resume.
Tuition: $395
8 Weeks
Upcoming Classes
Mondays, 6:00p-9:30p
Starts February 13

This class has a pre-requisite: LEVEL 3 SCENE STUDY: IN PERSON.
If you have the equivalent experience...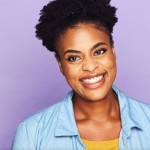 With an MA from NYU in educational theatre, Jessica also brings her extensive theatre and on camera experience to ASC!