GRADES 3-5: ON CAMERA TECHNIQUE
This fun and dynamic class uses improv and theater games to teach young actors to use their imagination and strengthen their commercial auditions. Students will work on-camera every week, and review playback footage. Classes include:
Improvisation: To promote fast-thinking and awaken the imagination, essentials for any actor
The Basics of Commercial Audition Skills: To prepare for any commercial audition with confidence.
The Interview Process: So young actors know just what to expect
MOS Auditions: Because you don't have to talk to act!
Single Person Copy: To learn how to work alone
Two Person Copy: To learn how to work with another actor
Audition Etiquette: Take all the guesswork out of how it works and what you're supposed to do.
Mock Auditions: Practice builds confidence for the real thing
Facilitated by the teacher, the final class culminates with a Q & A for parents with a top Chicago agent. This Industry class is held 11am-1pm.


Tuition: $395
This class meets 10 times
Upcoming Classes
Sundays, 10:30a-12:30p
Starts September 29
No Class Dec. 1st due to Thanksgiving
Born and raised on Chicago's south side, Charles is an experienced actor, director, producer, and teaching artist.
Testimonials
<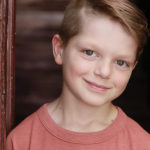 "Griffin had his very first audition for a commercial this week and he now has a callback! He is very excited and said that he wasn't very nervous because of what you (Charles Andrew Gardner, Instructor - Grades 3-5 On Camera Technique) taught him in class. Thank you."
— Julie Drake
>